2020-21 PTO School-Wide Volunteer Signups
We appreciate all our volunteers that help make the PTO programs successful. The 2020-21 school year is filled with many changes and unknowns. Feel free to sign up to volunteer and we will be in touch throughout the year if and when our programming can continue! Thank you for your support and if you have questions, please contact [email protected]
Whether you are a veteran volunteer, new to Madison or someone who has been waiting to join in – the time is right – you are wanted and welcome. Please look through the opportunities to share your time and talents and SIGN UP!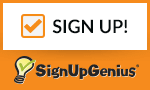 Classroom Volunteer Signups
Classroom Signups are managed by the Room Parents in partnership with the classroom teachers.  Your Room Parent will email a Signup Genius link to their class list in the Fall. Signups to be Room Parents will begin in August after class assignments are known.  Please consider being a Room Parent!